The biggest sale event of the year is almost here!   Are you ready?
Sale-A-Bration starts onTues.,  Jan. 22 and runs thru March 22.  2 months of stamping goodness!  Makes my creative juices flow!   If you have experienced Sale-A-Bration before, you know what I mean.  If you haven't, well then let me explain!
Stampin' Up! prints a catalog filled mainly with products exclusively available during Sale-A-Bration and every item is FREE with a $50 purchase.  There are stamps, punches, paper, ribbons/buttons, embossing folders.  Order $100 of products, get 2 FREE items.  Order $150 of products, get 3 FREE items AND $25 in hostess dollars to spend any way you want!
So there you have it.  Now you know why I'm so excited about Sale-A-Bration.  If you are a regular customer of mine, then you'll be getting your Sale-A-Bration catalog in the mail from me.  Or you can view it on-line -it will be posted on my blog on Tuesday.  Sorry, we are NOT ALLOWED to post the catalog any sooner.
But that's not all.  This year is Stampin' Up!'s 25th anniversary and they have a whole bunch in store for us to celebrate 25 years of stamping.  Here's a  quick rundown of what's new:
  Single Stamps
Ten Never-Before-Seen Images!
You wanted more? You got more! We've had a great response to our experiment with single stamps. So we are making ten more never-before-seen images available as single stamps available through March 31, 2013.   See all the singles stamps here.  Why buy a whole set when you can get just the one you want?
  Best of 25 Years Stamps
As part of our 25-year anniversary celebration, we're bringing back some of our favorite stamp images from the last quarter century and combining them into 12 sets, which will release-one set per month-during 2013. Even better, along with some great classic images, each "Best of" set will also include a never-before-seen image!
Some things to remember:
All Best of stamp sets will include 3-5 images, including a never-before seen image, and will be priced at $14.95.
While we are releasing just one Best of stamp set per month (with a new theme each month), all of the Best of sets will be available until March 31, 2014.
A new flyer will be released every month for each new Best of set.
All Best of stamp sets are available in Clear-Mount only.
While we are releasing just one Best of stamp set per month, all of the Best of sets will be available until March 31, 2014.
As a special incentive to collect the Best of stamps, starting in February we're including a collector's card and 25-year proof of purchase sticker with every Best of set. Collect six stickers, and send it in to redeem a FREE set of your choice valued up to $14.95! Free sets must be redeemed no later than April 30, 2014.
January 2013 – Best of…Birthdays
Best Of Birthdays Clear-Mount Stamp Set #132929 – $14.95
To order the this set, or see more info on the Best of…Promotion, click here.
And lastly, the new product that I am most excited about:

It's a Magical Paper Escape Every Month!
Sweep away the mundane-your creativity carriage awaits!
I'm Paper Pumpkin . . .
I come to your door each month (a fully decked-out creativity carriage). I'll help you to escape your life with some paper fun.  I come in a sweet box, but you'll really love what you find on the inside: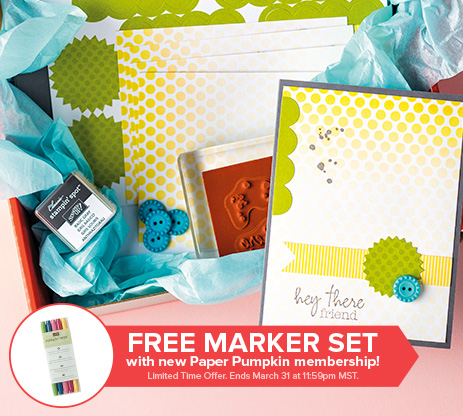 All the stamps, ink, paper, and accessories to create pinable projects. Create stuff like cards, journals, décor, and more!
Paper Pumpkin by Stampin' Up! is a new monthly kit program that anyone and everyone can enjoy!
Get Started
It's so easy to get started. Simply sign up for the program by visiting www.mypaperpumpkin.com and click Get it. Every month a new, surprise project kit arrives at your doorstep. Just think of the anticipation of creating a fun project to pin, showoff, and share with your friends and family-every month!
NOTE:  If you are my customer (or would like to be), please be sure to choose me as your demonstrator (Nancy Gleason, zip code:  18507), near the end of the Paper Pumpkin ordering process.  Once you have completed your subscription order (or sooner if you have any problems), please email me to let me know you subscribed and I'll be here to take good care of you.

Of course, you'll want to know more. So here's the nitty gritty:
Each month we send you a unique, surprise kit with a project-cards, journals, décor, and more! (We've even color-coordinated, measured, and cut everything for you!)
Each kit includes stamps, ink, paper, and accessories-everything but adhesive.
Each kit gives you a 30-minute creativity escape.
We will ship your Paper Pumpkin on or around the 15th of the month.
You need to sign up for a kit by the 10th of the month to get that month's kit. If you sign up on the 11th of the month, your first kit will come the next month. (Let's say you sign up on May 10th, we'll send your kit around May 15th. If you sign up on May 11th, we'll send your first kit around June 15th.)
A Paper Pumpkin membership is $19.95 per month (and shipping is included!)
There's no commitment, you can cancel your monthly Paper Pumpkin at anytime. You can also skip a month if you want.
Starting in early March, we'll offer a Try-It kit if you'd like to try Paper Pumpkin for one month.
Here's How You Order
Sign up for your monthly Paper Pumpkin by visiting www.mypaperpumpkin.com and click Get it.  When asked to choose a demonstrator, please include my name and zip code:  Nancy Gleason 18507.  Thanks!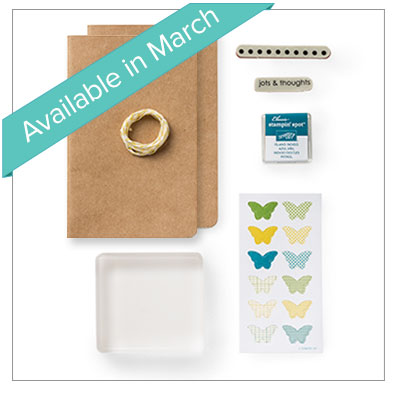 A FREE GIFT IN YOUR VERY FIRST KIT
The Welcome Kit is the very first Paper Pumpkin Kit you will receive in your first month of membership.  The Welcome Kit includes a free gift-a clear acrylic "D" block! (an $8.50 value).