My Paper Pumpkin.  It's the magical paper escape, delivered to your door each and every month, thanks to the magic of auto delivery!    It's a complete paper-crafting kit from Stampin' Up!
Each month, a package arrives on your doorstep.  Each month, a new project, complete with everything you need.   Each month, anticipation – wondering what will be inside.    Well, the cat is out of the bag so to speak for March.   Watch the video below to see what will be arriving on doorsteps all over the country in the next few days.  Will you be one? If you are -Spoiler Alert!  If you like the surprise, don't watch this video!

If you aren't already receiving My Paper Pumpkin, you can sign-up here. And if you sign up before March 31st, as an added bonus, you'll recieve a FREE set of 5 InColor Markers (a $14.95 value!)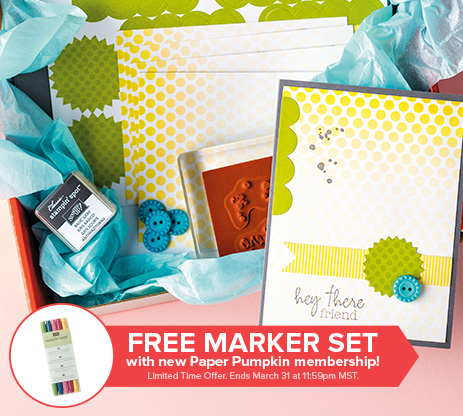 So, don't wait.  Claim your FREE today –   sign-up here  and start receiving My Paper Pumpkin on your door step each month.
All the creativity, without the fuss!   It's a no-brainer.
Happy Stampin,
Nancy