Welcome to the May Pals Blog Hop. This is the first hop on our new day – the 2nd Wednesday of the month. Before we celebrate the release of the new Stampin' Up! catalog next month, we want to take time to say goodbye to our favorite retiring products. This month we are showcasing projects that feature stamps or accessories that are retiring along with the 2013-14 Idea Book & Catalog on June 4th.
You may just be starting the blog hop or may have come from Jackie Diediker at Stampin' Jackie  Stop #4 on the Pals Hop.   If you get off track at any time, the full lineup below will help you move along from blog to blog.
  Good-bye, Hello!  Thanks for stopping by My Stampin' Space!  Today's project features a Stamp Set and colors that we are saying "Good-bye" to.  So, good-bye "Hello".  
The sentiment comes from the stamp set "My Friend" which will be retiring.  I just love the swirls in the lettering!  Who wouldn't enjoy getting a card in the mail with such a pretty, swirly 'hello'.  I heat embossed the sentiment in Early Espresso on top of a watercolor technique background of Midnight Muse, Gumball Green, & Summer Starfruit.  All of these colors are 2012-2014 In-Colors which means they are retiring also.  A piece of Summer Starfruit baker's twine adds another pop of color.  The panel was popped up using Stampin' Dimensionals onto a piece of Midnight Muse Cardstock.  The card base measures 5-1/2″ x 3″ which means it needs a custom envelope!  The envelope punch board turned a piece of In-Color DSP into a custom envelope in a jiffy!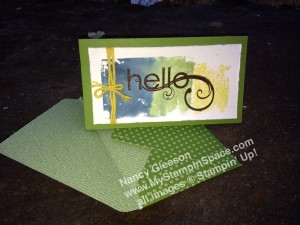 I made the same panel again but this time, I placed it on a Gumball Green card base.  Which do you like better?
I love these three colors together;  blue, green & yellow are color families that just pair so well together.   Now, I have to admit that I did not like Summer Starfruit when I first saw it.  But the first time I paired it with Gray, my mind was changed in a heartbeat!  I just love Summer Starfruit and Basic Gray together.
Tell me what you think when you see these colors together. 
  Don't you just love it?  I'm so sorry to see Summer Starfruit go!   "So Sorry" is another stamp set that is retiring also.  I'm also sorry to say 'good-bye" to this stamp set too.  It's been my go-to stamp set when I've needed to make a sympathy card, a get-well card, or just plain apologize for being a blockhead!
So, there are many things that we are saying good-bye to, but you can still get these items while supplies last before they retire forever at the end of the month.
Check the retired lists here:  (Heads Up:  Many items have already sold out. )
I hope you enjoyed my projects, and if you want to order these stamp sets, ribbon, or anything else from Stampin' Up! please visit my on-line store.
Thanks for hopping with the Pals today.  The next stop is Sue Becker at RnR Stamping Stop #6 on the Pals Blog Hop! Thanks for visiting and  I hope to see you next month.