I sat down to make a Sympathy card last night expecting to use the Level 2 Sale-A-Bration item "Lasting Lily" because, well, it has a beautiful lily image and several sentiments that are perfect for this occasion.  However, I wound up using the sentiments but taking a totally different direction for the card.  I do that sometimes (after all it is a woman's prerogative to change her mind, isnt' it?)  Let's take a look: 
The beautiful "Botanical Butterfly" DSP is a Level 1 Sale-A-Bration item (meaning you earn it for FREE with a qualifying $50 order).  That paper is just so gorgeous!  I find myself looking at it but not wanting to cut it up and use it.  Does anyone else have that problem?  The prettier the paper, the harder it is to cut it up.   But in my head I know that it looks a lot better in a card that is going to brighten someone's day when they open their mailbox than sitting on my  shelf. #loveitchopit #makeacardsendacard
This card is headed for someone special, someone who I refer to as my Stampin' UP! mom (she introduced me to Stampin' UP!  many years ago and set my life on a totally different trajectory!  Boy, I'm so glad she did! – But that's a story for another time).  Her Mom passed away over the weekend.  I definitely needed to chop up my gorgeous DSP  to make a sympathy card for her!
This card is so beautiful because the DSP does all the heavy lifting!  All I had to do was to stamp the sentiment, crop it with an oval framelit, layer it with a stitched oval, place it over a belly band that picks up the tiny black layer, and I was done!  I did use a piece of copier paper on the inside and stamped a sentiment on that.  TIP:  Whenever I use a colored card base, I always add a plain white copier paper insert – it makes it easier to read & write on white than on color. 
I was able to earn both the Botanical Butterfly DSP and the Lasting Lily stamp set at the same time.  I try to make it a habit to never place an order less than $150.  Why?  First of all, shipping is a minimum of $6.95 up to an order of $69.95 (it becomes 10% of the order after that), AND MOST IMPORTANTLY, at $150 you earn Host Rewards EVEN IF THE ENTIRE ORDER IS YOURS (you don't have to host a party or a workshop to earn those host rewards!)  So if I placed a $150 order, I'd earn 10% in Host Rewards.  If I placed 3 – $50 orders, I'd pay more in shipping and I wouldn't earn any host rewards.
So, during Sale-A-Bration, you definitely want to place orders in $50 increments so you can earn FREE Sale-A-Bration items.  But if you can, I suggest you place your order for a minimum of $150 to earn those host rewards too.  (I often use those host rewards to stock up on adhesive or envelopes, and occasionally to indulge in  a stamp set I might not otherwise order).  If you really want to maximize your savings, place a $250 order.  These BIG SPENDERS either order all for themselves, or gather a few orders from friends and family.  At $250 you earn a $25 Host Reward Bonus so you'll get $25 (10% of $250) and $25 for a total of $50 in Free Products, AND 5 -Level 1 Sale-A-Bration rewards!!
Now is also a good time to order a 12 month PrePaid Paper Pumpkin Subscription ($209) because you'll earn Free Sale-A-Bration items and you'll get closer to that $250 Big Spender level.
To learn more about Sale-A-Bration, read my blog post here.  Then head over to my online store, and place your order to earn your FREE Sale-A-Bration items.
JANUARY HOST CODE & FREE GIFT WITH ORDER
If you place an order with me during January that is $75 or more (before tax & shipping) and your order is less than $150, please using HOST CODE B3KMJJ23.  If your order is $150 or more, please do not use this Host Code but rather take the Host Rewards for yourself. 
If you do place an OnlineOrder of $75 -$149.99 AND use the host code, OR place an order of $150 or more , I will send you the Happiness Blooms Enamel Dots as my way of saying "thank you" for shopping with me.
Here's the supply list for my card if you want to order these products to create this card for yourself.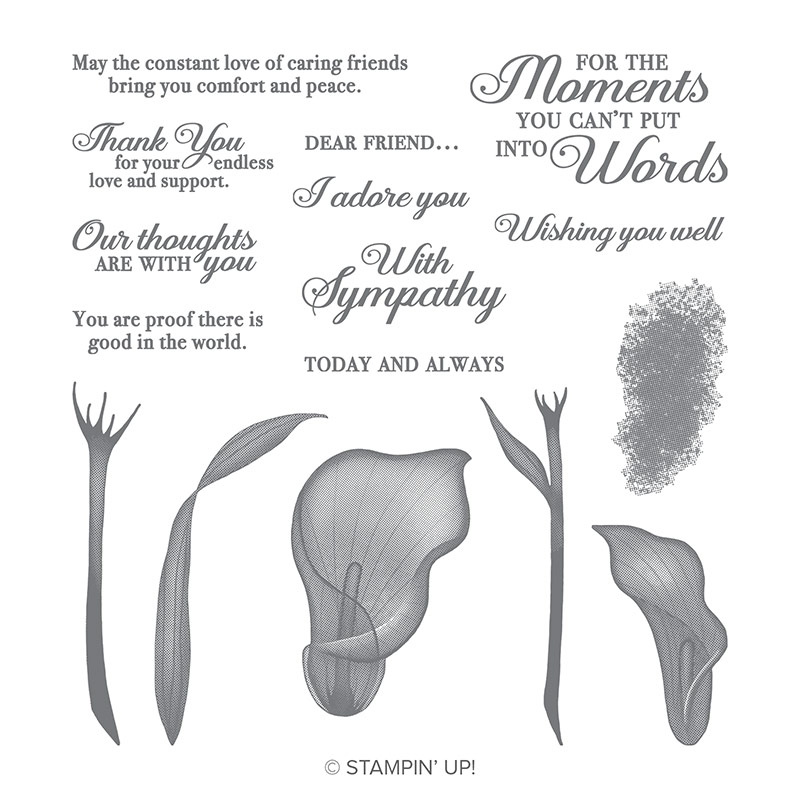 Thanks friends, for stopping into My StampinSpace today!