I am having such a blast on my journey with Stampin' Up!  I never imaged where this gig would have taken me and the people I have met, and the friends I have made along the way.  I am so blessed by it all!   It has been simply the best!
I am honored to be part of Mary Fishs' Stampin' Pretty Pals.  Mary is the best of the best when it comes to all things Stampin'!  I was drawn to her style: clean, simple, sophisticated and chic!
Mary has been honored to be #1 Globally in Sales, Recruiting and Leadership.  Last fall she achieved the One Million Dollar Mark in Sales! I think that makes her simply the best.   As such she was recognized with having a stamp set designed just for her.  This is her stamp set and punch bundle. 
This bundle will be available to purchase June 1st when the 2018/19 Stampin' Up! Annual catalog is released.  As a demonstrator, one of the perks I enjoy is an early pre-order.  I was able to get this bundle several weeks ago.  Sweet, right?
This is the card I made for Mary to let her know what I think of her!  ( I mailed the card weeks ago, I sure hope she has received it before seeing this post! )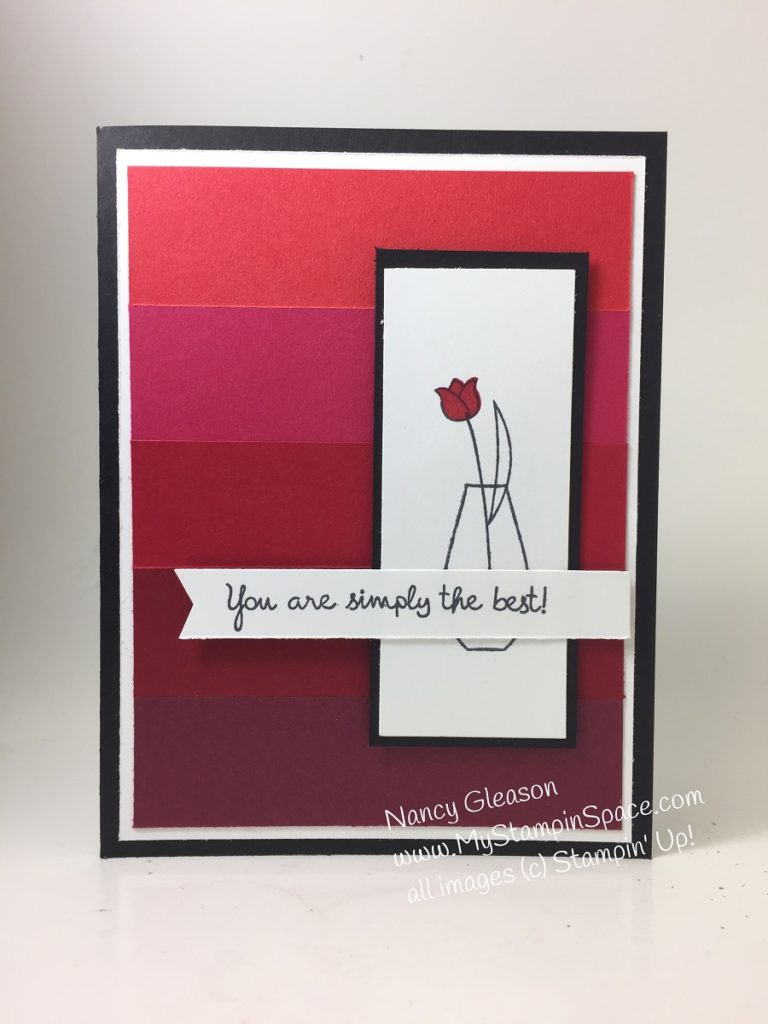 I think Mary is simply the best!  And her stamp set and punch bundle rock!  Of course the stamp set wasn't the only new product on this card.  I created an ombre effect background of all our red cardstock, starting from the bottom up, Merry Merlot, Cherry Cobbler, Real Red, Lovely Lipstick and Poppy Parade.  You can see the variation in colors in all of these luscious shades of red.
You will also be able to order the new colors of Merry Merlot, Lovely Lipstick and Poppy Parade on June 1st.
Well, I hope Mary likes her card as much as I like her stamp set and punch.  If you want to join me on this fun journey with Stampin' Up!, order your $99 Starter Kit today and let's see where it takes you!  My prediction is that you'll make new friends, discover new talent and confidence and enjoy the ride!  My Stampin' UP! journey is simply the best and yours can be too!
Please leave me a comment and let me know what you think of today's project and the Varied Vases Stamp Set and Vase Builder Punch.  Is this bundle at the top of your must-have list?     Comment Here
Ready to join?  Purchase the $99 Starter Kit now.