Well, my package arrived filled with all my new goodies from the soon-to-be released 2015 Stampin' Up! catalog.  Here is what I got: 
Yes, I got my new catalog!    You know what I'll be doing.  I've seen the entire catalog on line, but there's nothing like having it in your hands!  I mark my catalog with everything I have, and form a wish list.  I'll be busy this weekend!

This is what was in my box; come on, let's take a closer look!  Let me introduce the new 2015-17 In Colors to you, if you haven't met them already.  Mint Macaron, Tip Top Taupe, Watermelon Wonder, Cucumber Crush & Delightful Dijon.  I will be taking my time to get to know each one better in the coming days.
New stamp sets, new paper, new embellishments.  My husband's birthday is this week, so the first stamp set I grabbed was a new set called "Build a Birthday" to make this card.
This set is so versatile; with the cake stand, and flag topper, you can 'build' your birthday cake with strips of Washi Tape, like I did with Cherry on Top Washi tape, or with stamps included in the set.
Are you loving the striped paper I used in the background?  Me too, it's from a new Paper Stack called Cherry on Top (and it coordinates perfectly with the Washi Tape of the same name!).  The starburst circle layer is made with the new Watermelon Wonder cardstock; I'm really  diggin' this color.  It's helping me get over losing Strawberry Slush!
Because I made this card in a custom size (5-1/2″ x 5-1/2″)  I needed a custom envelope.  You know how great the Envelope Punch  Board is for this; but now, we have Envelope Weight Paper, printed on 2 sides, to make our envelopes!   Woot-Woot!  This will definately take your envelope making to new levels!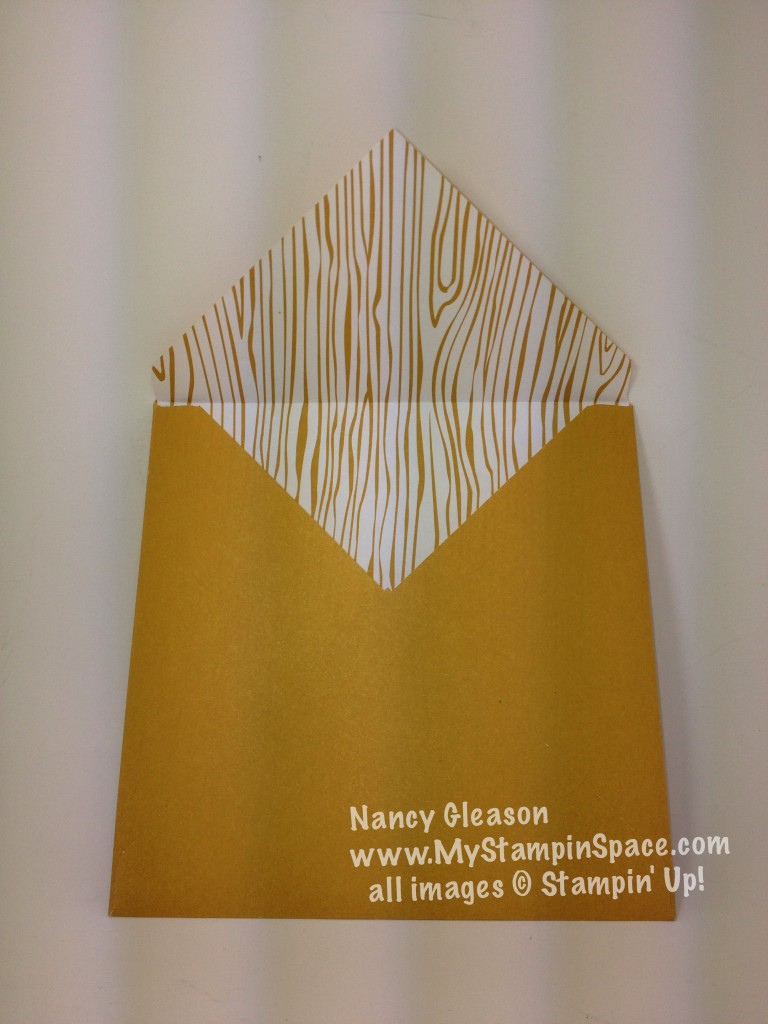 How Beautiful is this?  Solid color on one side, printed on the other.  Just perfect – lighter weight than cardstock, heavier than standard DSP.  What a nice presentation – a coordinated envelope & card.
This color is Delightful Dijon.  It might be my least favorite color of the new In-Colors but it has lots of promise & possibilities.  It is a color that I think will definitely grow on me.  I do like how it contrasts with Bermuda Bay.  Did you notice that little embellishment?  Here's a close-up:
Meet the new 2015-17 In-Color Blossom Accents!  Aren't they adorable?  I love these!
Just perfect to wish my hubby a Happy Birthday!  This paper stack has such cute patterns, I can't wait to share more with you in the coming days.
Thanks for stopping by My Stampin Space today.  Bookmark this page and check back every few days to see what's new.  Don't forget to like me on Facebook too.  And if you like this project, please Pin it on Pinterest!  Thanks for sharing!
Right now, NEW Paper Pumpkin subscribers can skip to the fun for less! Get 50% off your first two months of Paper Pumpkin when you sign up by June 10. Go to PaperPumpkin.com and use promo code: SAVE50. (Please choose me as your demonstrator – thanks!)
After your first two months, keep the creativity coming for just $19.95 + tax per month (shipping included). Each month a fully designed project kit will arrive at your door with stamps, ink, and paper—everything cut and ready to go.
It's commitment-free! You can suspend your membership at any time. So, go on, sign up for Paper Pumpkin. You'll love it—we guarantee it!
(For new subscribers only, not valid on prepaid subscriptions. Discount applied to one kit per month for the first two months of a new subscription. Offer ends June 10, 2015 at 11:50 pm (MT).)
Sign up at PaperPumpkin.com by June 10 with promo code SAVE50!  See what all the fuss is about at https://www.youtube.com/user/paperpumpkinvideo
Happy Stampin,
Nancy