One of my favorite items in the Sale-A-Bration promotion is a specialty paper called Irresistibly Yours.   At first glance it looks like plain white paper, but when you look at it close; you see a tone-on-tone pattern.  But the real beauty comes when you add color.  The pattern is designed to resist ink, so when you add ink, either by spritzing, daubing or sponging, the color reveals the pattern!  It was love at first sight for me.
Imagine being able to create a patterned paper in any color to match any project!  That is exactly what I did to create this card below.
The color challenge for this weeks Colour Me Color Challenge is Perfect Plum and a neutral.  I needed to make a sympathy card for a special girl and thought Perfect Plum would be cheerful.  I didn't have any patterned paper in Perfect Plum but with my Irresistibly Yours specialty paper; that didn't matter.  I had an ink pad and a re-inker in Perfect Plum so I was set.
I simply filled a Stampin' Spritzer bottle with rubbing alcohol and 12 drops of ink and sprayed the paper.  Using a tissue I rubbed the ink off to reveal the pattern.  Easy peasy!  You get 12 sheets (2 each of 6 patterns) in the package of paper, and the paper is FREE with a qualifying order during Sale-A-Bration!
I also stamped an image on the inside of the card; both the flower, and the inside & outside sentiments are from Bloom With Hope stamp set.
The sentiment on the front was heat embossed with White embossing powder on Perfect Plum cardstock.  The embellishment is actually an old retired Builder Brad that I pulled from my stash.  There is an Artisan Embellishment kit in the New Occasions catalog that is reminiscent of an old Artisan Embelllishment kit that I pulled this from.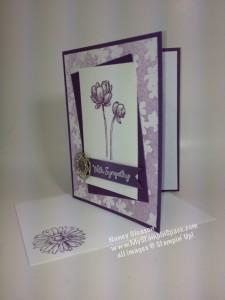 Tip:  When using a dark colored cardstock for my card base, I like to glue a piece of Whisper White paper on the inside for writing.  It gives the inside of the card a polished look too!.  Of course, envelopes need some jazzing up too!  A simple bloom from the same stamp set adorns the outside.
Want to know more about the Irresistibly Yours paper?  Watch this video:
Remember:  During Sale-A-Bration, you get FREE items for every $50 in product you order.  So place your orders in $50 increments for maximum savings.
IE:  I have a customer who orders $35 every month on-line.  A $35 order won't yield you any free items.  If during each month of Sale-A-Bration (January, February & March) she placed a $35 order; she would spend $105.  If she spent that same money in two orders of $52.50 each she would get 2 FREE Sale-A-Bration items.  So spend smart!
Want to order any of the products I used to create this card? Just click on the item below in this chart to go right to that item in my online store.
Click Here to view the
Sale-A-Bration flyer
to see all the products you can get for FREE with a qualifying order of $50 (Before tax & shipping)
I hope you see the beauty of this awesome paper.  I have already ordered 2 packages of this paper so I'll have some to hoard keep and some to share!
Please leave me a comment and let me know your favorite item in the Sale-A-Bration catalog.  Did Irresistibly Yours top your list?  Come back tomorrow and I'll share the other item that tied for my #1 Fav from the Sale-A-Bration catalog!
In the meantime, Happy Stampin',
Nancy