Welcome to the Pals Blog Hop for April 2016.  We are thankful you stopped by to take a look at our new 2016 Blog Hop monthly themes.  This month we are featuring projects that are all about our families. This is a great time of year to think about what to make for Mother's Day, Father's Day, or upcoming graduations. And, family vacations are just around the corner… how would you want to remember those special family moments? We hope to provide you with lots of ideas and that you enjoy our creations.
You may just be starting the Blog Hop or may have come from the previous link from the Line-up on the Pals Blog Hop listing shown below.  The full lineup will help you move along from blog to blog so you may see all the projects.
Well, I intended to make a card to welcome a new baby for today's blog hop.  The idea I had in mind just didn't pan out the way I envisioned it.  So, I fell back on my trusty old "Going Global" product suite.  I knew the 'world's best dad' sentiment wouldn't fail me!  After all, isn't Dad always there to bail us out when we get into a jam?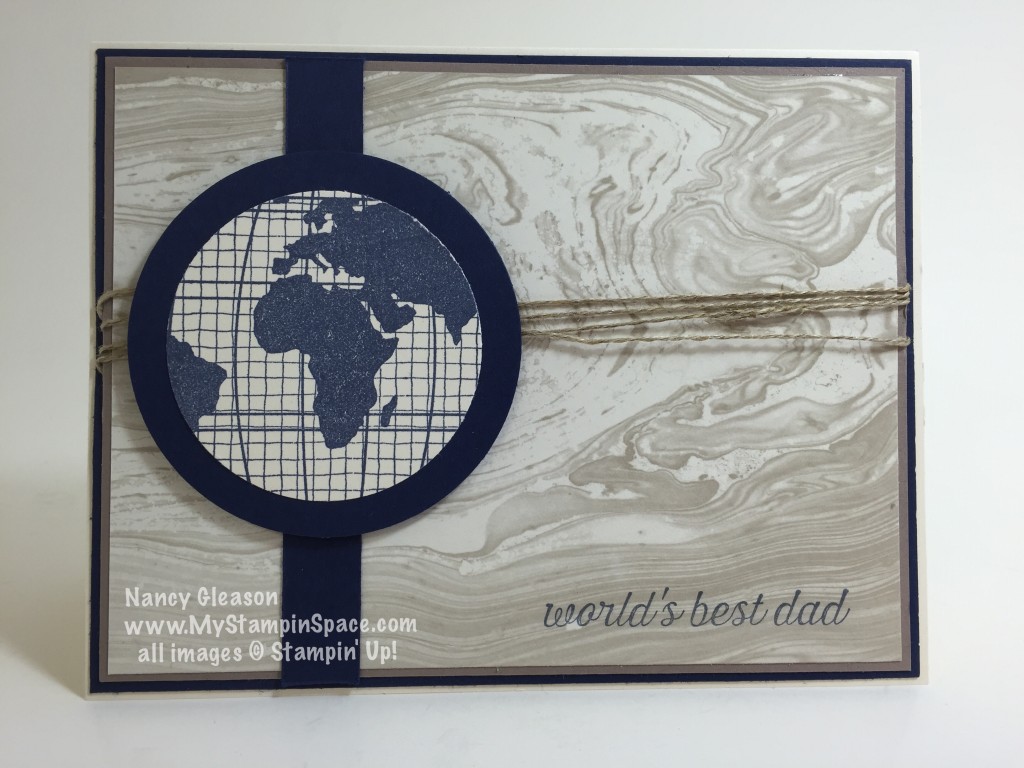 When making a masculine card, I think it is important to keep things simple, without lots of embellishments or bling.  This beautiful patterned paper, from the Going Places DSP stack is all the design that's needed to add lots of interest but not be too overbearing.  Layered on Sahara Sand and Night of Navy Cardstock, it has a nice pop of color, but in masculine tones.  The world image from the Going Global stamp set was stamped in Night of Navy and layered on a Night of Navy circle.  A thin strip of Night of Navy cardstock repeats this color 3x's on the card (a good rule of thumb is to repeat a color or an element 3x's for good balance!).  A few strands of Linen Thread repeat that neutral color while adding a rough, masculine touch.
If you would like to order any of the products I used here, just click on the item name in the description above, click here to go to my online store.
Thanks for visiting. To continue with the hop, please refer to the Blog Hop Line-up below. We hope to see you on next month's Pals Blog Hop!