In the Stampin' UP! world, CASE means to Copy And Share Everything and it's really just another way of saying we can find inspiration all around us. Sometimes, we just see a project that someone else made and we just love something about it so much it calls us to grab our supplies and make a project too. Maybe it's the layout, or the colors, or the stamp set, or the way the sentiment is placed, or anything at all.
Well, today I CASE'd myself! Yes, my most popular PIN on Pinterest is a card I made at the beginning of the year for my downline meeting. I needed to make a number of Thank You cards and I wanted to use the Peaceful Moments stamp set which has a nice Thank You. When I grabbed that set, I thought back to that card I made and decided to remake that card, but in a different color.
You can see my original post with that card here, and instructions on how to make it.
It has also become my most popular Pin on Pinterest!
And here is the card I made today: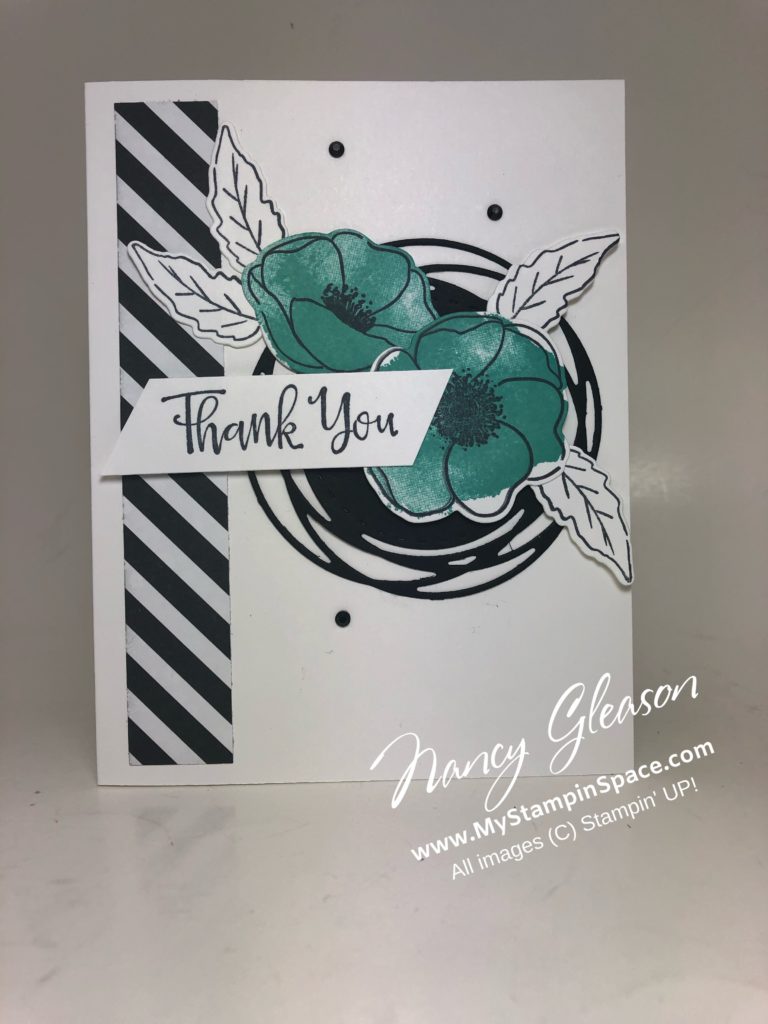 Do you see what I did? Same card, different color. I basically kept the card layout the same, except I used Bermuda Bay ink instead of Poppy Parade, and swapped out the sentiment. A couple of Black Rhinestones were added for some bling.
And just like that, I CASE'd myself! Have you ever made a card you liked so much that you CASE'd yourself? I've made several cards that I've like so much, I made them in several colors. Actually, my last class was a Facebook Live and I made a card in all 5 of the retiring 2018-2020 In Colors. You can watch that class recording on my Facebook page by clicking here.
Let's Compare Side by Side
So which do you like better? Please leave me a comment with your choice of favorite color. I love to hear from you.
If you want to CASE this card from me, I'd be honored! And to help you, you can shop my online store here to grab any or all of the Peaceful Poppies Suite of products. These bundles are just back in stock!
Don't forget to sign up for my mailing list– you'll receive a free PDF Tutorial when you do, and you'll continue to get free project tutorials and lots of useful information to help you in your papercrafting journey as well. Follow me on Social Media too. I'll be hosting online classes on my Facebook page.